The Australian Childhood Foundation has developed a range of resources which may be useful in the classroom or for parents to use at home.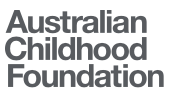 Although the resources are made more with parents in mind, there are a lot of stories and activities lists/prompts that may either be used in class or as homework recommendations available on the Australian Childhood Foundation's website.
Please click here to find the resources.

We recommend that the activity of assessing and evaluating the appropriate of resources for use with your students/children may address Standard:
3.4.2 (3.4 in ACT) - Select and/or create and use a range of resources, including ICT, to engage students in their learning.